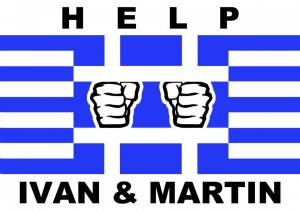 It has been several weeks that Ivan Buchta and Martin Pezlar arrived home from their 'extended vacation' and we think its time to get some questions answered, and things explained.
After the arrival, several Czech media covered the news of their return. Unfortunatly we were not able to translate all these interviews, and not without a good reason.
In order to inform the English community and other media we have arranged a Interview with Ivan Buchta & Martin Pezlar,where you can ask Ivan & Martin your questions.
We will pick up the subject from the very beginning, and thus documenting the whole incident in a chronological order.
While Ivan & Martin are free on bail,  the case aint closed yet. We think this interview is the perfect oppertunity to straighten out all rumours and accusations.
So send us your burning questions about the case in English. Please do not submit questions about Arma 3 that are not related to the case. We will moderate all submitted questions, so keep the questions civilized.
How can you submit your question(s):
The recording date of the interview will be announced in the near future. - untill then : send us your questions!